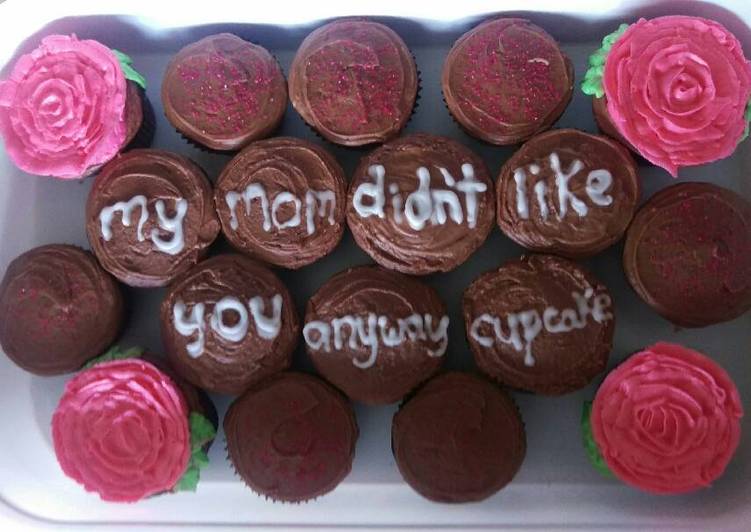 My Mom Didn't Like You Anyway, Cupcake. Erin Bolger shows the CBC Book Club how to make "My Mom Didn't Like You Anyway Cupcakes," a recipe from her book, The Happy Baker: A Dater's Guide To. My mom didnt like you anyway, cupcake. The recipe is excerpted from The Happy Baker Cookbook by Erin Bolger.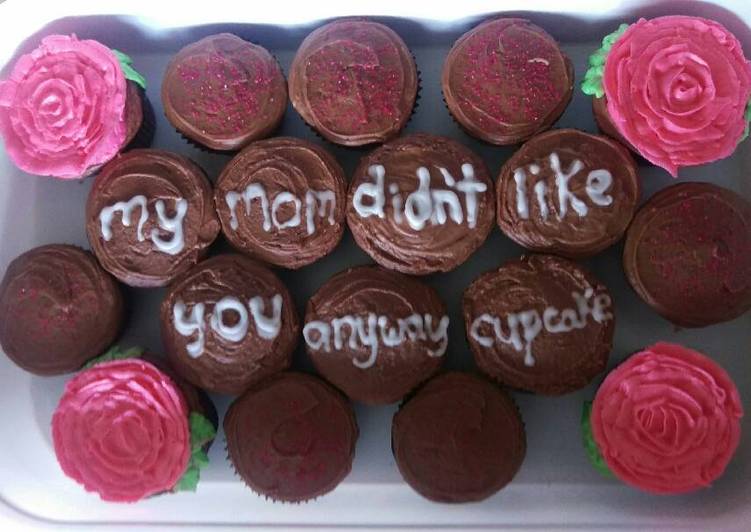 This is one of my favourite recipes. Chocolate and cupcakes are a staple in my household and a great go-to recipe for that guy Mom just isn't begging that you bring home for her to meet. I feel like whenever my mom sees my art, she just.kinda.stares at it and doesn't really give much comment. You can have My Mom Didn't Like You Anyway, Cupcake using 11 ingredients and 5 steps. Here is how you cook it.
Ingredients of My Mom Didn't Like You Anyway, Cupcake
You need 2 cups of sugar.
You need 3/4 cup of cocoa powder.
Prepare 2 cups of all purpose flour.
It's 1 tsp. of baking powder.
You need 2 tsp. of baking soda.
You need 1 tsp. of salt.
Prepare 2 of eggs.
Prepare 3/4 cup of vegetable oil.
Prepare 2 tsp of vanilla extract.
You need 1 cup of buttermilk.
You need 1 cup of boiling water.
Is this supposed to be you?" (<–which, in most cases, it is.) But anyway, I just feel kinda punched in the gut. Art is my passion, and the lack of support from my mom makes me self-cautious. My moms mother didn't love her as much as she loved her brother. Also, understand that she loves you anyway.
My Mom Didn't Like You Anyway, Cupcake instructions
Preheat oven to 350°F.
In a large bowl, sift all dry ingredients together; add eggs, vegetable oil, vanilla and buttermilk..
Beat with a mixer (or by hand) for a couple of minutes until smooth and silky..
Stir in boiling water until blended..
Fill 18-20 (I actually got 27 cupcakes) cupcake liners with batter and bake for 22-25 minutes..
I think for a long time it was like this for my sister. She thought I was the favorite because I got more attention and material things. Anyway, if you don't feel like being alone tonight, Joey and Chandler are coming over to help me put together my new furniture. CHANDLER: All right, kids, I gotta get to work. If I don't input those numbers. it doesn't make much of a difference.