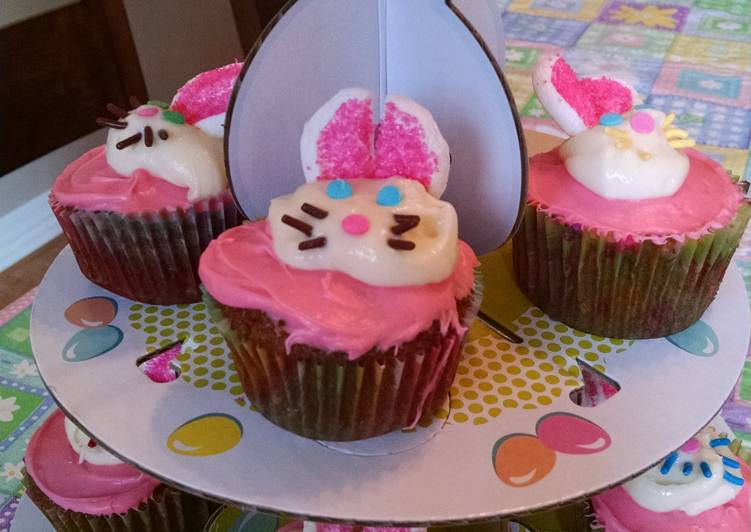 Bunny Cupcake Toppers. These Bunny Cupcake Toppers are quick and easy to make and will be a hit at Easter or your Spring party. I am excited to share my Bunny Cupcake Toppers with you today. Just be careful that your cupcakes don't hop away from your dessert table.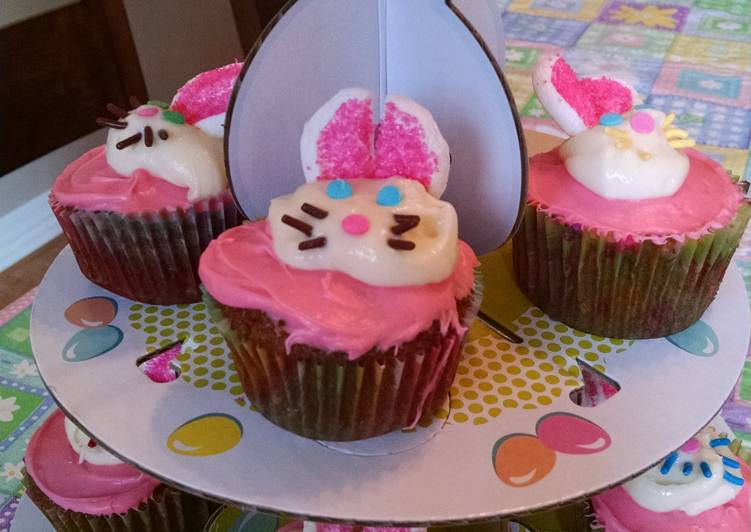 These fun leaping bunny cupcake toppers are so cute and easy to assemble. Frost your cupcake into a peak, and press your toppers down into the icing. Then, using the candy accents, add your bunny face. You can have Bunny Cupcake Toppers using 5 ingredients and 3 steps. Here is how you achieve it.
Ingredients of Bunny Cupcake Toppers
You need 2 of tubs of frosting.
It's 1 of marshmallows.
It's 1 of pink crystal sugar.
Prepare 1 of round sprinkles.
You need 1 of long chocolate sprinkles.
Do this last because if you don't the face will become distorted when. These cupcake toppers look great on cupcakes, cakes, sandwiches and more! Scroll through images for colour chart. Free printable cupcake toppers in PDF format.
Bunny Cupcake Toppers step by step
Tint one tub of frosting pink or whatever color you would like. Frost cupcakes with that. Put the white frosting in a zip top bag. Snip the end off. Put a dolip of white in the middle of each cupcake..
Cut each marshmallow into 4 prices. Then snip each piece about half the way down to make it look like ears. Dump some pink crystal sprinkles on a paper plate. Press marshmallow ears in and slightly flatten. Put on cupcakes..
Give each bunny 2 eyes, a nose, and 3 whiskers on each side..
Choose from dozens of different designs for every CupcakePrintables.com is a collection of free printable cupcake toppers. With our easy to recreate Cotton Ball Bunny Cupcake Toppers you are sure to impress the crowd BUT not break the bank while doing it! All the supplies in today's tutorial are really inexpensive and easy to. Find printable cupcake toppers stock images in HD and millions of other royalty-free stock photos, illustrations and vectors in the Shutterstock collection. Cute little bunnies made from delicious fudge and perfect to top a cupcake!