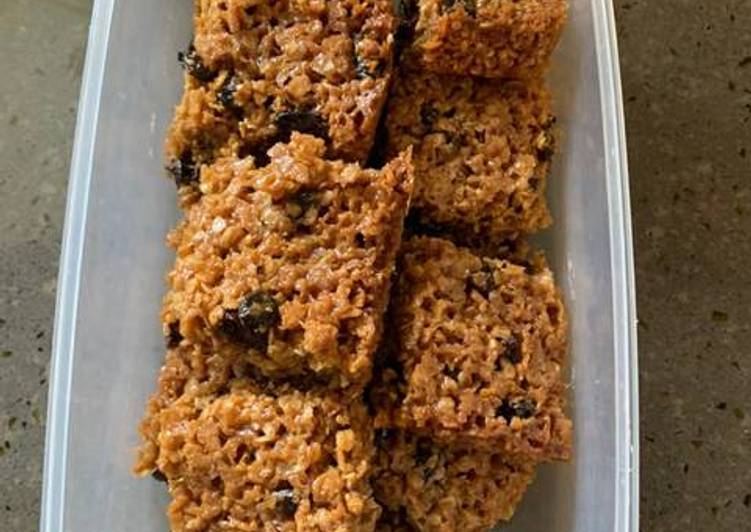 Fruity FlapJacks. The crunch of Scottish oats with an added bursting of fruity deliciousness makes a fruity flapjack the sweet treat that the whole family will love! While Raisin Flapjacks and Sultana Flapjacks are usually the most common variations, there's nothing stopping you adding whatever other dried fruit or even fresh fruit pieces you'd like too! Melt the butter, sugar and syrup or treacle in a saucepan, but be careful not to let it boil.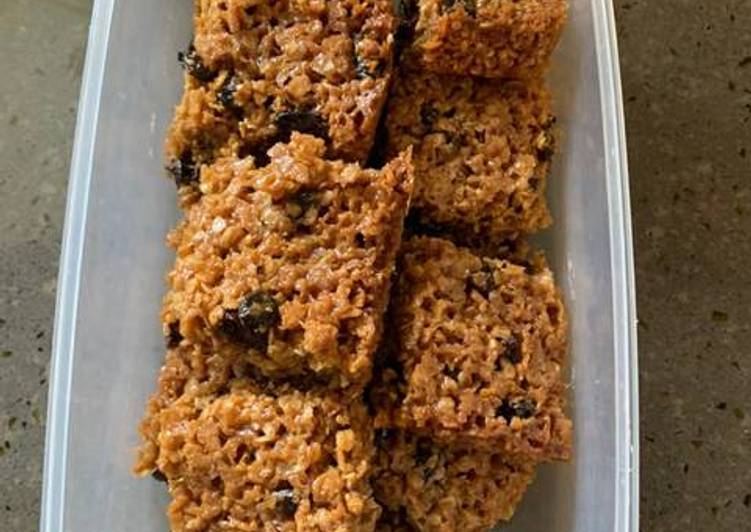 For this recipe I used the Easy Flapjack Recipe and added mixed dried fruits and glace cherries. You can mix and match them as you wish. How to Make Fruity Flapjacks Perk up your flapjack with berries, cherries and seeds! You can have Fruity FlapJacks using 5 ingredients and 5 steps. Here is how you cook it.
Ingredients of Fruity FlapJacks
It's 175 Gr of Butter.
It's 175 Gr of Soft Brown Sugar.
It's 1 Tablespoon of Golden Syrup.
You need 250 Gr of Porridge Oats.
Prepare 25 Gr of Sultanas (Optional).
This easy fruity flapjack recipe is a great teatime treat. There's nothing complicated involved, just a bit of melting and mixing. Made with our Carnation Condensed Milk and packed with energy – this Fruity Flapjack will be the new go-to snack for everyone in the house. Fruity honey flapjacks Flapjacks are a great bake for little chefs.
Fruity FlapJacks step by step
PreHeat Oven to 150c and Lightly Grease a 20c, Baking tin.
Melt together Butter, Sugar and Syrup. When melted and combined remove from heat and stir in the porridge oats and sultanas (if using).
Pour into the Tin and smooth the surface with the back of a metal spoon..
Bake for 35-40 mins or until the edges are brown and the surface in golden..
Place the tin on a wire rack. Cut into squares after 10 minutes, but leave to cool completely before removing from the tin.
This recipe for fruity honey flapjacks uses your favourite dried fruit and replace the refined sugar with honey make them a great snack for little ones. Flapjacks are a great bake for little chefs. Line a loaf tin with baking parchment. In a medium saucepan, melt the margarine, brown sugar and syrup together over a moderate heat. Remove the pan from the heat and add the oats, flour, dried fruit and coconut, and mix thoroughly to combine.