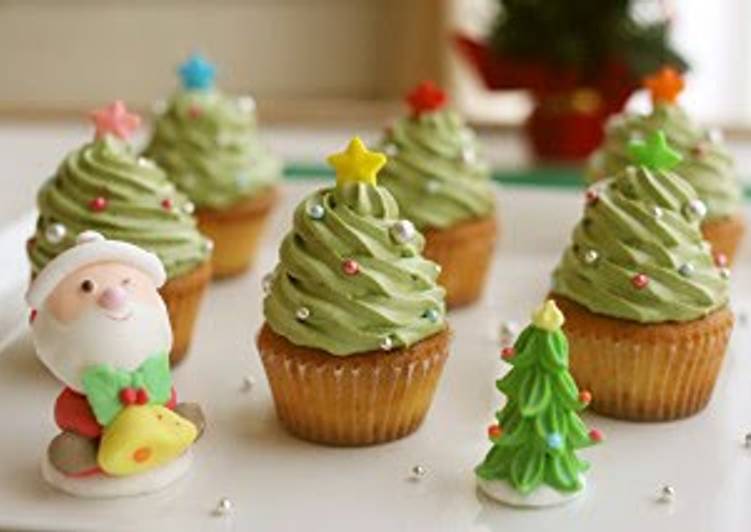 Easy! Christmas Tree Cupcakes. How to make a BUTTERCREAM CHRISTMAS TREE CUPCAKE. How to Make Christmas Tree Meringues Easy Christmas Tree Cupcakes made with pretzels and a snowy coconut frosting!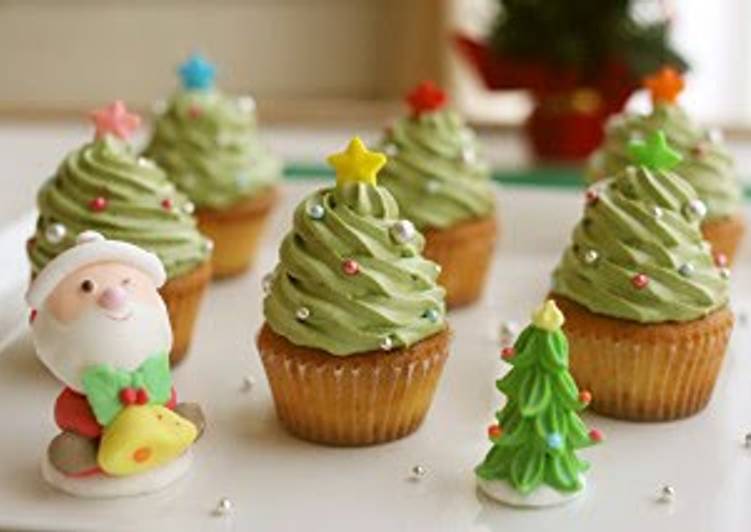 These easy Christmas Tree cupcakes are the perfect Christmas dessert that will wow your guests this year! Meet these easy Christmas tree cupcakes. Learn how to make quick and easy Christmas tree cupcakes recipe with simple ingredients. You can have Easy! Christmas Tree Cupcakes using 15 ingredients and 12 steps. Here is how you achieve that.
Ingredients of Easy! Christmas Tree Cupcakes
Prepare of 24 Mini Cupcakes.
It's 90 grams of White flour.
It's 40 grams of Butter.
It's 60 grams of Sugar.
Prepare 1 of Egg.
You need 50 ml of Milk.
It's 1 tsp of Baking powder.
Prepare 1 dash of Salt.
You need of Icing and decoration for 12 cupcakes.
It's 200 ml of Heavy cream.
Prepare 30 grams of Sugar.
It's 2 tsp of Matcha.
It's 1 of Or store-bought matcha latte mix.
Prepare 1 of it contains about 15 grams sugar ◇Note◇ if using matcha latte mix.
You need 1 of Dragées (metallic decorative balls).
Decorated with buttercream frosting and sprinkles and fun for kids! Christmas Tree Cupcakes Little Christmas Trees Christmas Sweets Christmas Cooking Noel Christmas Christmas Goodies Christmas Ideas Christmas Cupcakes Decorate your simple chocolate cupcakes into cute little Christmas trees with help from pretzels, icing and colorful sprinkles. Make any cupcake festive with one of these easy Christmas tree toppers. Start by making your favorite cupcakes.
Easy! Christmas Tree Cupcakes instructions
◆For the batter◆ Bring the eggs and milk to room temperature..
Soften the butter in a microwave (30 – 40 seconds on 600 W). Preheat the oven to 340°F/170°C..
Mix sugar with the softened butter. When combined, add the eggs and salt. Mix again..
Add milk and continue to mix..
Add flour and baking powder in 3 batches, blending well after each time. Mix until smooth..
Use two spoons to scoop the mixture and place into the mini cupcake tin..
Bake for 17-20 minutes at 340°F/170°C until it's done..
Chill the cream very well, then beat with the matcha and sugar..
Beat until very stiff peaks form..
Transfer into a pastry bag..
Pipe out in a circular motion like making a soft-serve ice cream cone..
Decorative with dragées and it's done..
Bake and frost the cupcakes before making the toppers. I sprinkled coconut on the frosting because I love the flavor and because the coconut adds a great snow-like texture. Make any cupcake festive with one of these easy Christmas tree toppers. Start by making your favorite cupcakes. This post may contain affiliate links.